BEARING

CYLINDER LINER

EXH.VALVE SPINDLE

EXH.VALVE SEAT

PISTON RING

PISTION

PUMP BARREL PLUNGER

PUNCTURE VALVE

SPINDLE GUIDE

VALVE HOUSING
2-Stroke
4-Stroke
HSD-MAN B&W
HSD-WinGD
HSD-MAN B&W HOLEBY
98MC / MC-C
RT-flex96C / RTA96C
48/60B
98ME-C
RT-flex84C
32/40
90MC / MC-C
RT-flex84T-D / RTA84T-C
28/32
80MC / MC-C
RT-flex68-B / RTA68-B
27/38
70MC / MC-C
RTA62U-B
23/30
70ME-C
RT-flex58T-B / RTA58T-B
21/31
60MC / MC-C
RTA52U
60ME-C
RTA48T-B
50MC / MC-C
HSD-MAN B&W
HSD-WinGD
HSD-MAN B&W HOLEBY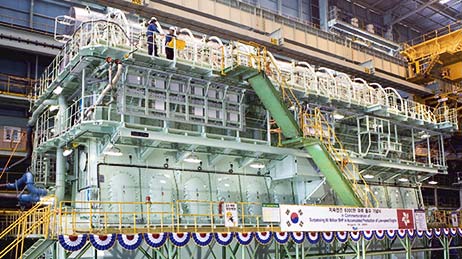 HSD Engine has maintained a strong partnership with MAN Energy Solutions of Denmark for 30 years since signing a technology agreement with the 250-year-old licensor in 1983.
HSD-MAN B&W Low Speed ME and MC Engines
HSD-MAN B&W Low Speed GI Dual Fuel Engines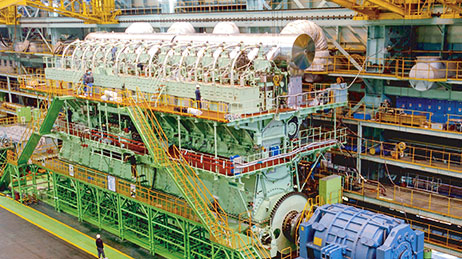 HSD Engine has entered into a technical alliance with WinGD in Switzerland in 1984 and has pursued R & D to develop next-generation engines and meet environmental regulations.
HSD-WinGD Low-Speed Engine Power Range
HSD-WinGD Dual-Fuel engines

HSD-WinGD Generation X Engine

HSD-WinGD RTA and RT-flex Engines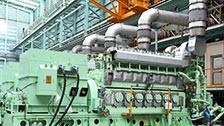 HSD Engine installed the industry's first moving assembly line in the Medium-speed Engine Shop. Our "foolproof production system" helps to ensure flawless products, while the product packages combined with low speed diesel/gas power plants and the Single Guarantee Policy help maximize customer satisfaction
Marine & Offshore Gensets / Marine Propulsion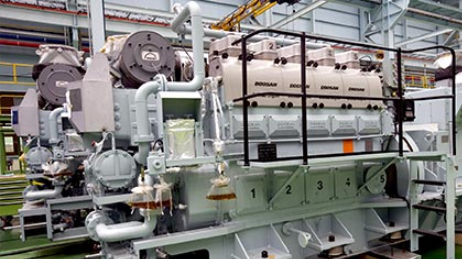 Customer needs for higher-efficiency power generation facilities are ever growing, as the automation of marine vessels and structures ramps up power consumption. HSD Engines contributes to the stable and economic generation of power by producing and providing compact-sized, higher-efficiency power plant engines that satisfy those needs. Meanwhile, our medium speed engines, which can be used as the propulsion system in naval vessels, passenger ships and other special-purpose ships, are designed to guarantee longer service time as well as for efficient and easy maintenance. HSD-MAN medium speed engines ranging from 450 to 18,000kW in output capacity provide the ideal solution for all vessels and maritime applications.
HSD-MAN Medium Speed Propulsion Engines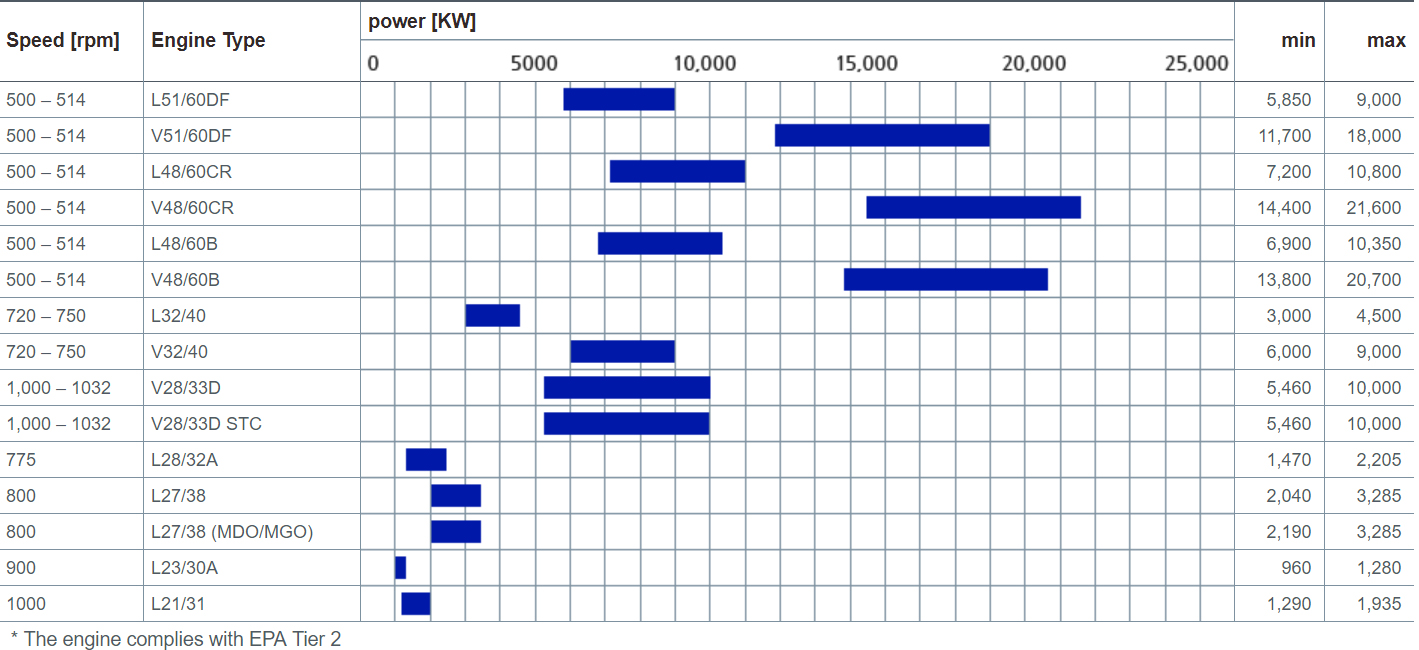 HSD-MAN Medium Speed Marine GenSet

Korean / Japanese / European Major Marine Machinery Parts
Boiler
KANGRIM HEAVY INDUSTRIES CO.,LTD
Compressor
DONGHWA PNEUTEC. GO., LTD
Pump
SHIN SHIN MACHINERY CO., LTD
Network
System
MARINE RADIO CO., LTD
Deck
Machinery
ORIENTAL PRECISION&ENGINEERING CO.,LTD.
Deck
Machinery
DONGNAM MARINE CRANE CO., LTD
Deck
Machinery
JUNG-A MARINE CO., LTD
Network
Sytem
SARACOM CO., LTD
Air
Condition
HI AIR KOREA CO., LTD
ELE'C
COMPONENT
DAEYANG ELECTIC CO.,LTD
BWTS
PANASIA CO., LTD
ICCP
K.C.LTD.
VALVE
ACE VALVE
CONTROL
B.Y. CONTROLS (BUYOUNG CO LTD)
HEAT
EXCHANGER
DONGWHA ENTEC
PURIFIER
SAMGONG CO., LTD
CRANE
HAEAN MACHINERY IND. CO., LTD
STEERING
YOOWON INDUSTRIES LTD
BILGE
GEORIM ENGINEERING CO
HYDLAULIC
HAN YOUNG ENGINEERING
Ele'c
Component
HYUNDAI ELECTRO & ELECTRICAL SYSTEM
Boiler
SAACKE GmbH
Pump
NANIWA PUMP MFG. CO.,LTD
Pump
TAIKO KIKAI INDUSTRIES CO., LTD.
Monitoring
System
SCHALLER AUTOMATION GmbH & Co.KG
Deck
Machinery
MACGREGOR CO
Network
System
JAPAN RADIO CO., LTD
Network
System
CONSILLIUM, AB PUBL.
Ele'c
Component
DEIF A/S
Ele'c
Component
MEIYO ELECTRIC CO.,LTD
Galley


.

METOS Oy Ab
Treatment


.

JOWA AB
Separator
GEA WESTRALIA SEPRATOR GROUP GMBH
BLOWER
TAEIL BLOWER MFG.
CONTROL
SAMKUN CENTURY CO
CONTROL
GEA WESTRALIA SEPRATOR GROUP GMBH
TELEPHONE
CMR KOREA CO,. LTD
LEVEL GAUGE
HANLA LEVEL CO., LTD
CO2 SYSTEM
NK CO., LTD
AIR DRYER
KYUNG NAM DRYER CO
Ele'c
Component
KUKDONG ELECOM
COMPANY

BUSINESS

GLOBAL NETWORK

CONTACT